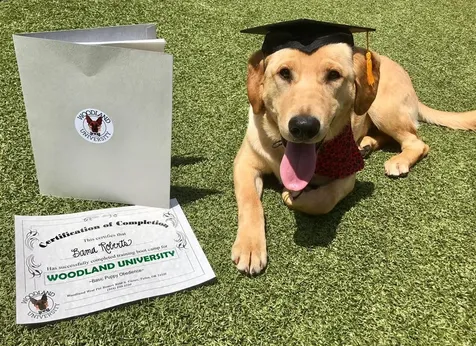 Bootcamp Prices
Annie: $900
Bella: $1,000
Head Trainer- Abby: $1,200
Woodland University Bootcamp is a 2 week training camp catered to meet the specific needs of each dog. This program ranges from basic obedience, advanced obedience, dog/people aggression, to unique behavioral issues; our training program is guaranteed to help!
Our one of a kind training bootcamp Includes:
2 week stay at Woodland West Pet Resort

Intense daily training and activity schedule

2 group classes

Detailed report card at pick up

Certification of completion

A private one-on-one with your trainer following pick up

Regular progress updates
Sit, down, wait/stay, come and heel are basic commands that are covered during a basic obedience bootcamp. Self-control is a huge focus throughout the entire stay; NO jumping and loose leash walking are included within this area.
Bootcampers room during their stay!
Example:
90 lb Yellow Lab inside the kennel
Rooms for small training dogs!